Are you:
Passionate about hands-on-learning and teaching?
Comfortable working with people of all ages?
Constantly curious and wanting to learning new things?
Looking to work in a practical environment?
Someone who thrives on ordered chaos and a bit of an admin superstar?
---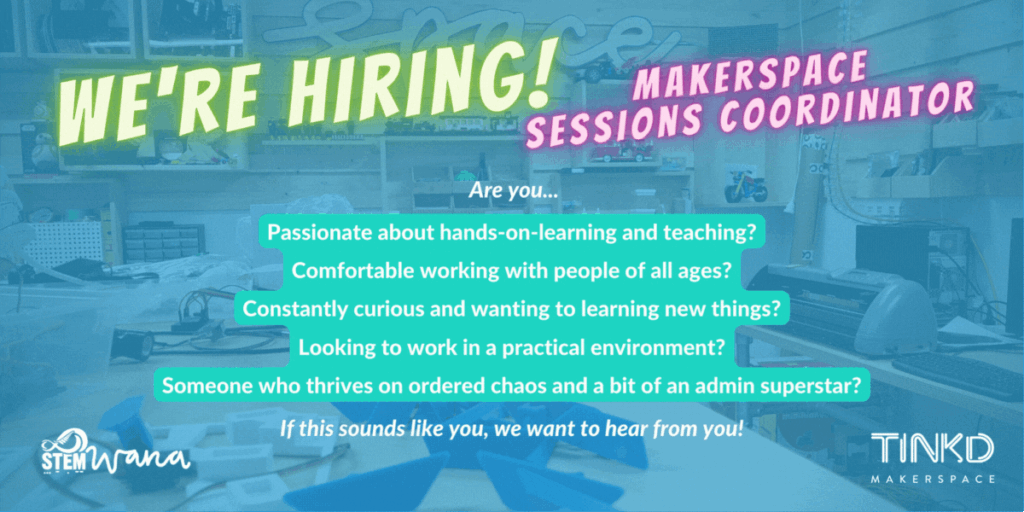 A fixed term role exists for a makerspace Sessions Coordinator to support and coordinate aspects of Tinkd Makerspace sessions and activities for January-June 2023. This is an on-site "contact" role working from our location at 148 Durham Street, Tauranga.
This is a job share role working up 15 hours a week with the possibility to add more hours during the contract period. The pay will be based on skills and experience.
Currently we run the following sessions:
Tuesday 5-8pm
Thursday 5-8pm
Sunday 9am-12pm
Additional sessions to be added:
Week day during school hours to accommodate home-school, schools and community groups
Another evening session
General duties include:
Ensure venue is cleaned and sanitised and fit for purpose – after each session and on a daily basis
Keeping storage and zones tidy/clean
Be on site in a supervisory role during weekly "contact" maker sessions
Have a broad knowledge and understanding of all the equipment and kit at Tinkd (full training to be provided)
Coordinate and give tours and introductions to the public
Administration and coordination duties to be carried out on-site:
Work alongside and support the STEM Wana Trust Project Manager on any funding opportunities
Assist in the development and design of workshops and maker sessions
Management of the booking app

Maintaining an accurate record for members and attendees at sessions
Coordinate booking for sessions and equipment with members
Log materials/assets and replenish all stations and zones as necessary

Liaise with the Project Manager on stock and recording of materials/tools procurement
Assist in the development of any inductions processes (checklist of competencies/skills) for equipment/tools used by makers
If you think this role is for you, please email hello@tinkd.nz with your CV and covering letter telling us why you would be the right person to join our team.
****NO LONGER ACCEPTING APPLICATIONS****
Closing date: 31st January 2022. Applications will be processed as soon as they are submitted so don't delay.****