Can I bring children to Tinkd?
Absolutely! We're all about intergenerational knowledge sharing. However, Tinkd is a working environment with machinery and tools and not suited for very young.
We suggest children aged 8+ years will get the most from their visit. All children under the age of 16 years old MUST BE ACCOMPANIED and supervised by an adult at all times during the session. 16 and 17 year olds can become a Youth Maker but will require a guardian/adult waiver to be completed before attending without adult supervision. Please contact a member of the team to find out more.
Our crew and personnel are charged with the smooth running of sessions and will not, under any circumstances, act in loco parentis. Similarly, responsibility for vulnerable adults attending sessions rests with their carers who should make any arrangements necessary for them to be accompanied. Please refer to our Code of Conduct for the full version.
---
How much does it cost to be a maker member?
Your first visit will always be free so you can meet the team and get an introduction to the space before committing. Grab a free introduction/tour ticket.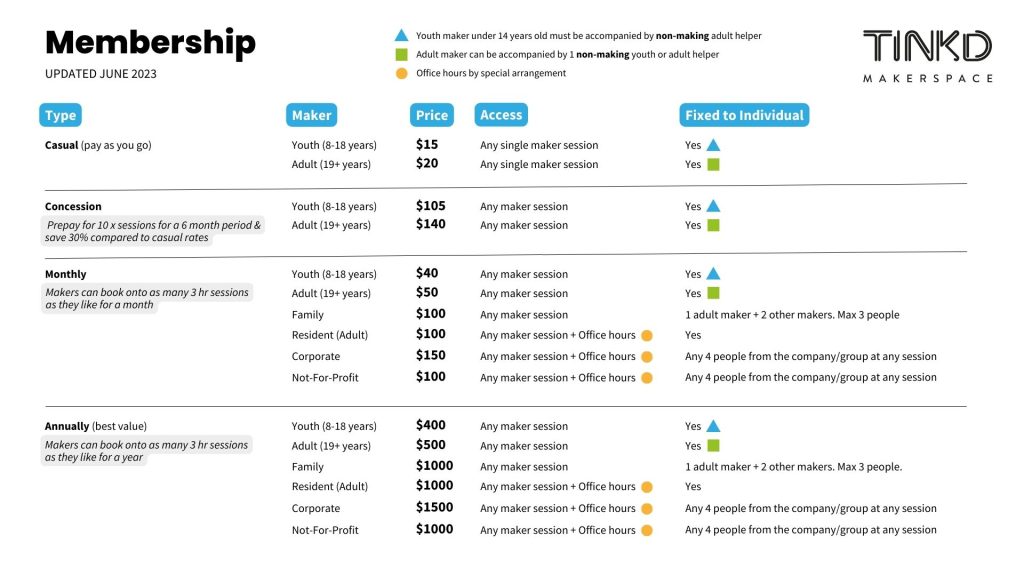 Register to see all session dates and sign up as a member!
---
How can I volunteer?
We love volunteers! Please get in touch with a member of the team to find out how you can support!
---
I don't live in Tauranga, where can I find my nearest Makerspace?
There are several makerspaces/hacklabs across New Zealand. Here's a few that we know about, if your makerspace is missing from our list, please get in touch and we'll add it!