We're delighted that you are interested in joining our community of Makers!
To book a space for a maker session you can choose to sign up as a Monthly Member to access unlimited Makers Sessions each month, or alternatively you can sign up for a casual one off fee.
We are open for maker sessions on Tuesday, Wednesday, and Thursday 5pm to 8pm, and Sunday 9am to 12pm.
It's free to register and sign up on our platform, once you have registered you can select the membership that suits you.

Free Tour
Come for a visit
Wednesday 29th November 2023 at 6pm
Thursday 30th November 2023 at 6pm
Sunday 3rd December 2023 at 10am
Tuesday 5th December 2023 at 6pm
Wednesday 6th December 2023 at 6pm
Thursday 7th December 2023 at 6pm
Sunday 10th December 2023 at 10am
Tuesday 12th December 2023 at 6pm
Wednesday 13th December 2023 at 6pm
Thursday 14th December 2023 at 6pm
Sunday 17th December 2023 at 10am
Tuesday 19th December 2023 at 6pm
Wednesday 20th December 2023 at 6pm
Thursday 21st December 2023 at 6pm
Membership Details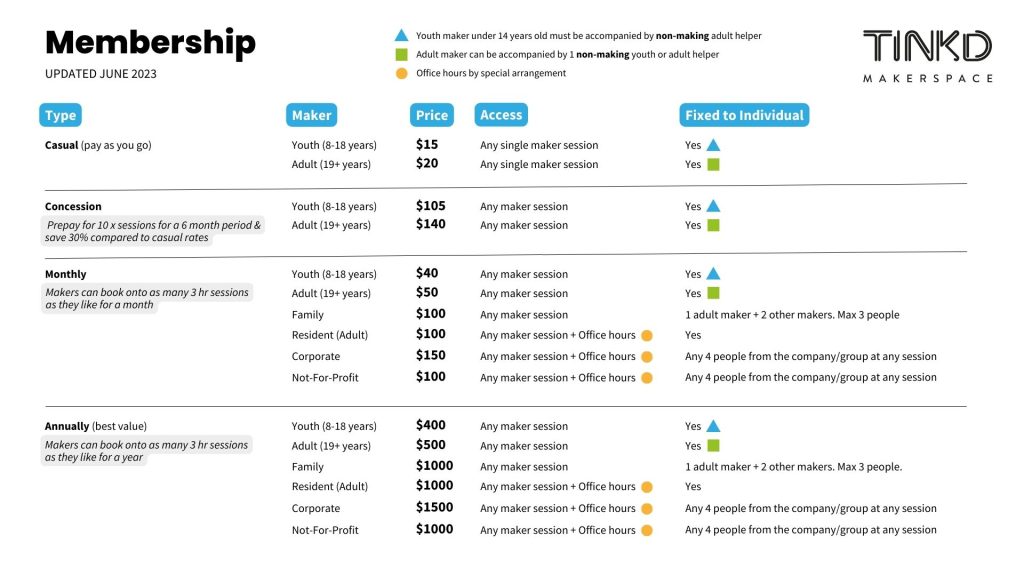 Monthly
YOUTH $40 per month / $15 casual one-off (ages 8-18)
Under 16 years must be supervised by an adult helper (no charge)
ADULT $50 per month / $20 casual one-off
Includes one child (must be supervised at all times)
FAMILY $100 per month
Allows for any combination of one Adult + two others within the family group
Annual
YOUTH $400* per year (ages 8-18)
Under 16 years must be supervised by an adult helper (no charge)
ADULT $500* per year
Includes one child (must be supervised at all times)
*Two months free