My name is Jason Edgecombe, I'm a father of two (soon to be three) with a background in mental health and disability. Until recently I was operating my own business providing mentoring for youth on the autism spectrum and running social groups and activities.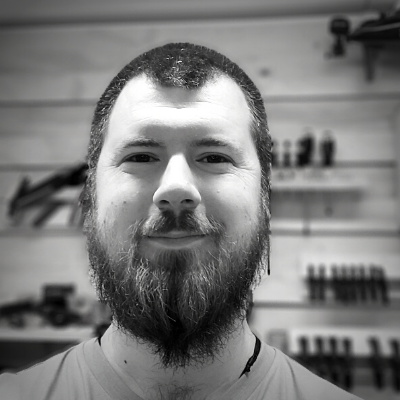 I have been in and around Basestation since before it's opening, being positive, helping with Startup weekends, Mashup and other events. I absolutely love entrepreneurship, personal growth and all things technology so when I found out about Makerspace I was hooked.
I volunteered here for a couple of months and when the opportunity to work as the coordinator came up I was excited and jumped on it immediately. I've always had a view that any problem has a solution and anyone can learn anything if they set their mind to it, so I've gathered a wide range of skills that make me a great "goto" for help in a place like Tinkd Makerspace and if I don't have an answer I will either find one or someone who does.
To give a (very) brief description I can do: intermediate IT support, intermediate woodworking, 3d modelling, basic sewing (yes both hand and machine), leatherworking, electronics assembly (robotics, computers etc.), 3d printing, lego mastery and shield making (that's right, medieval shields) and so much more. I'm incredibly excited to be working in this role and helping everyone out with their projects.
I hope to see you around! You can sign up for a free tour here.